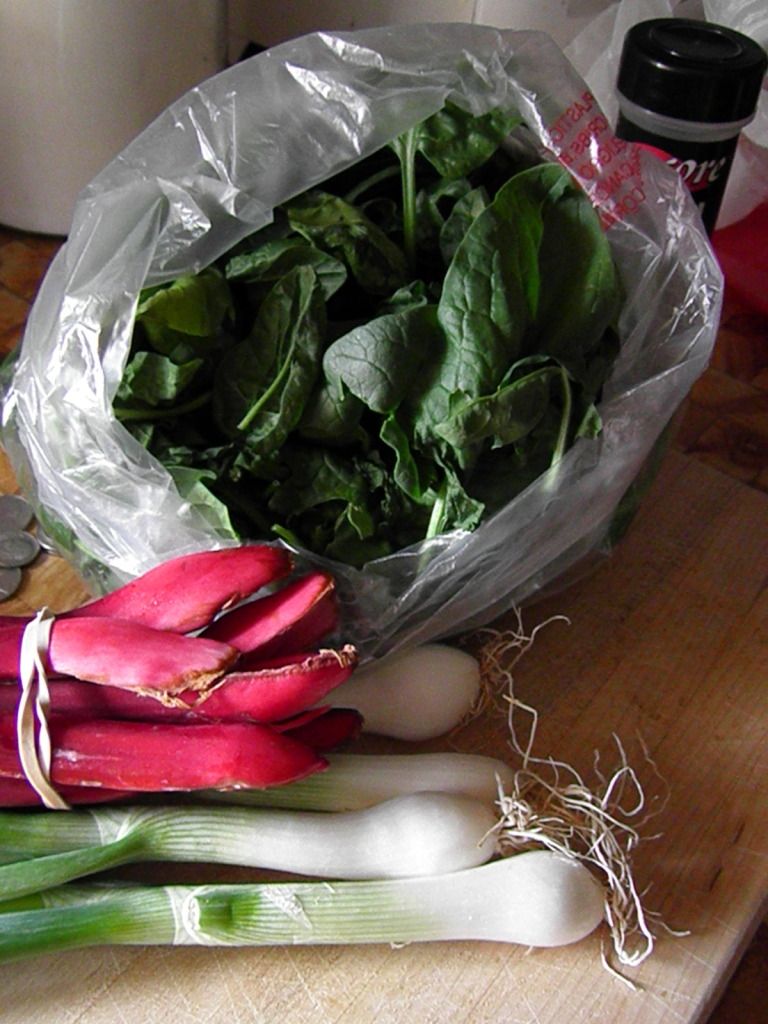 Lately, I've been trying lots of new foods. I go in spurts of being apathetic about what I eat and being very intentional. Right now, I'm feeling intentional and excited about my food choices. Especially since pondering/
writing about
making food more fun.
My husband was away for a week for work recently, and to get myself excited about him being gone, I planned a week's worth of healthy meals for my son and me. Everything had tomatoes in it because Hubster's allergic (this was my only chance!) and everything was super-healthy (something Hubster resists). Suddenly, a week without him sounded fun. Sure, I missed him, but planning something I couldn't do with him around made the week fun.
For the majority of the week, I used recipes from
Self's Drop10
plan. It cut out all the work of making my own menus. They used a lot of the same ingredients in the easy-to-make meals, making preparation easy. Plus, they built the menus around superfoods that have loads of health benefits, something that really motivated me.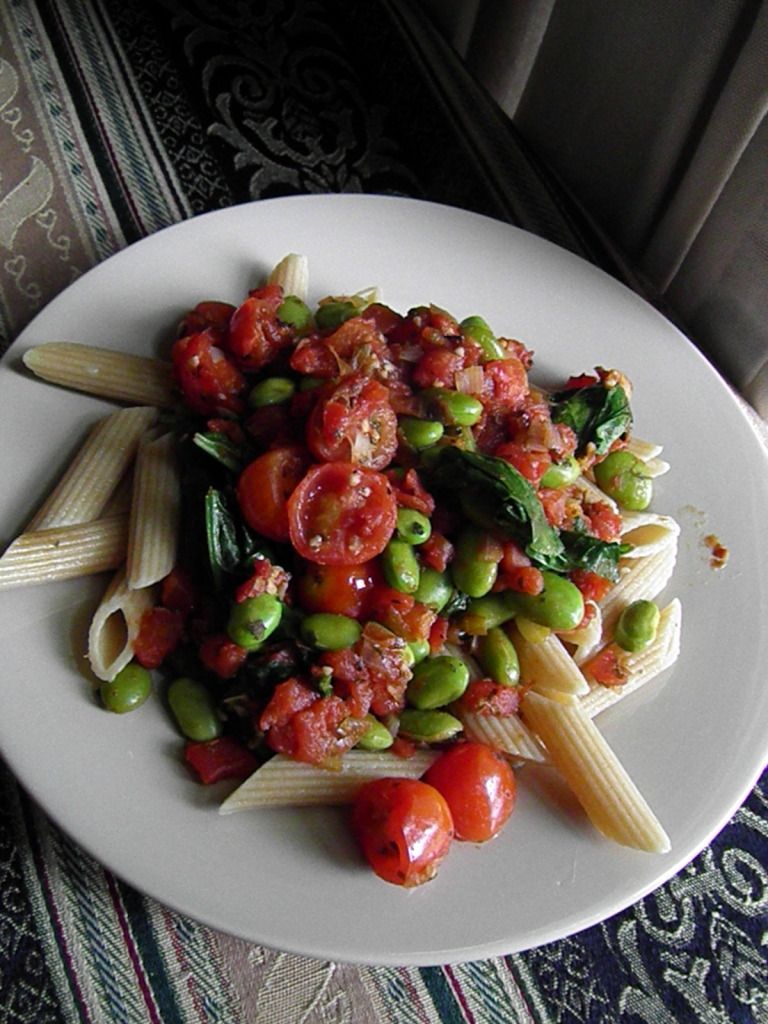 Penne Margherita
: onion, garlic, olive oil, grape tomatoes, edamame and penne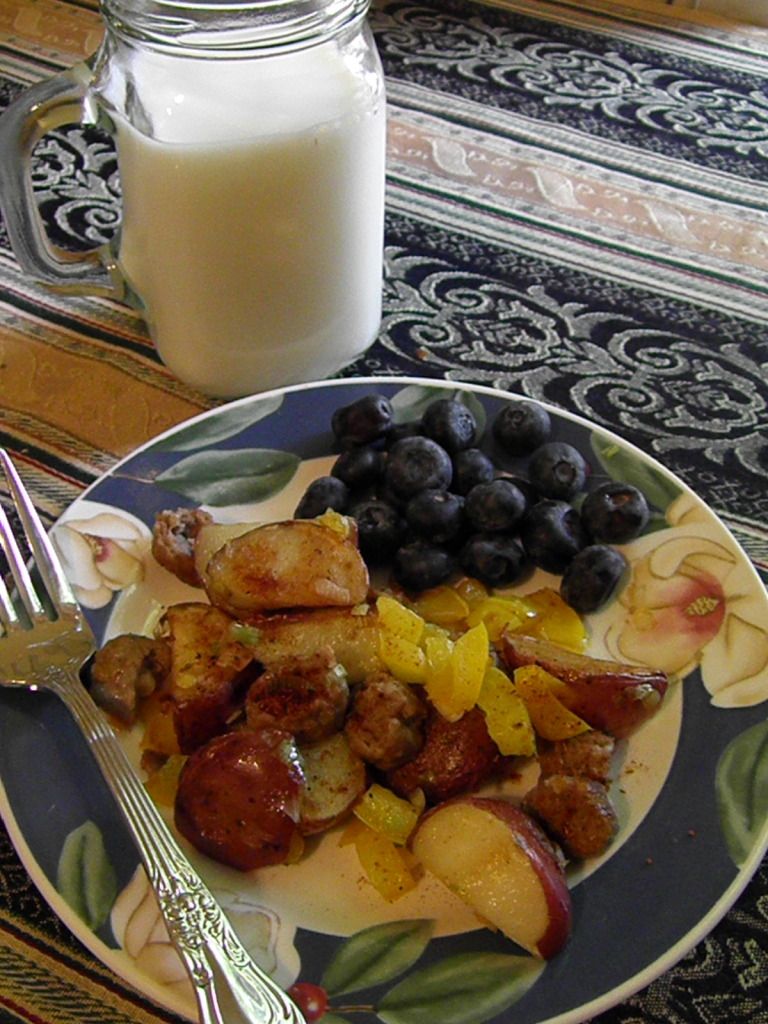 Sausage and Potato Skillet: red potato, onion, yellow pepper, pre-cooked sausage.
I printed the meals that I wanted to use, cut them out, and pieced them together on a clipboard that I hung in the kitchen.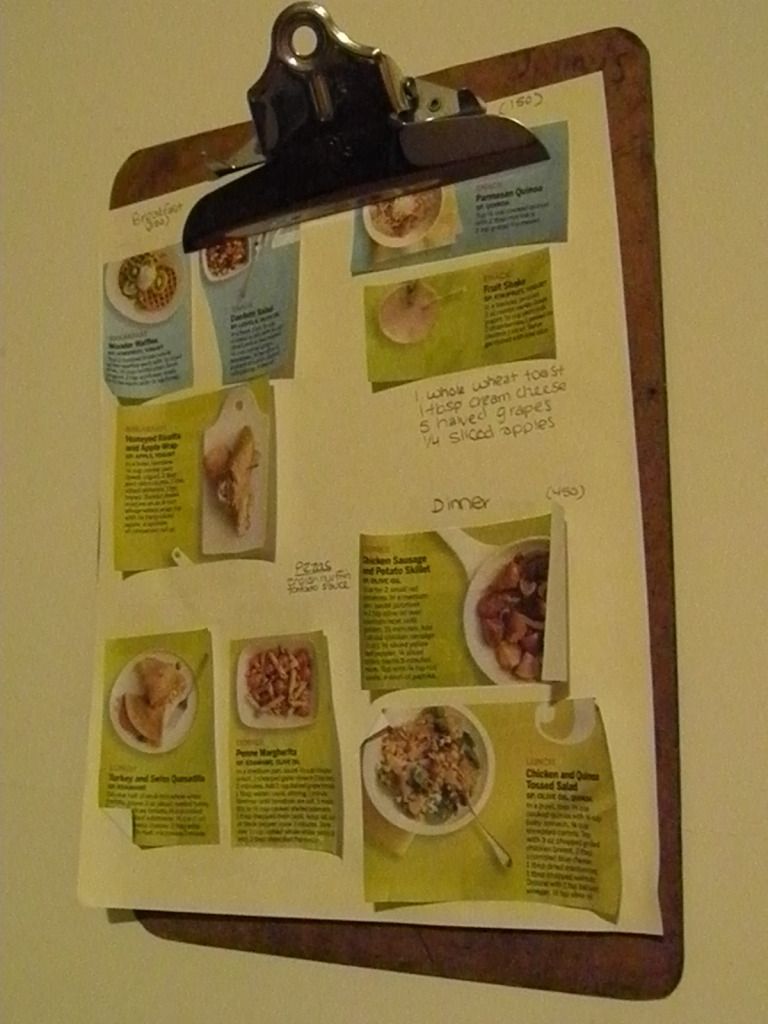 While motivation was high, I decided to try out a few more health foods purported to make my body a lean, mean, disease-fighting machine. Here's what I ended up trying:
1.
Edamame
: I had never really tried these pea-pod like legumes. But I'll be keeping a regular supply of them in my freezer from now on. Yum! They're easy to add to just about anything. They were in the Drop10 quesedillas even.
2.
Sushi:
I should've known I wouldn't care for this. I am not a fish eater. Maybe my taste buds are really different than anyone else's, but I just don't have a taste for fish. I know all the health benefits of fish, so I have given them a shot again and again. But I even tried a non-meat version of sushi and wasn't enthused. Oh well. I am still proud that I gave it my best shot. And I had a great time spending time with
some girlfriends
in a neat little local hotspot.
3.
Seaweed:
However, the sushi joint served a really good seaweed salad! It wasn't all for naught! I remember tasting seaweed in grade school and thinking it was terrible. I turned another one of my perceptions around, and I love that!
4.
Protein Powder
: Every
fitness website
I frequent mentions protein powder. To me, protein powder seems like something a beefy guy who hangs out at GNC would use. However, I've been reading a lot about the health benefits of whey protein powder, so I thought, why not? Target even offers their own version. Hey, guess what? It's pretty darn good. Especially mixed in oatmeal,
pancake batter
or prepared as a
breakfast cookie
.
5.
Beets
: I may have tried these before, but I never intentionally buy them. However, Peanut and I have made a Saturday morning farmer's market ritual. For $1, how could I not give them a shot? First batch of beet chips? Eww. Second batch? Not so bad. A friend clued me in that they taste better peeled. Duh! I also tried the canned version recently and I could take them or leave them. However, they're super-healthy, so I wouldn't be completely adverse to mixing them in with other things.
6.
Avocado
: This was another take-it-or-leave-it experience. I think I need to learn more about preparing avocado. I'm willing to give it another shot for all this healthfulness. I sliced it up and made some little finger sandwiches with crackers, sliced tomato and feta. I could barely taste it. Only the texture was noticeable.
7.
Chia seeds
: I finally purchased
a batch
when I noticed a local store sold them in bulk. Yippee! They're ok, it just takes a little getting used to the gel-like consistency they take on. Given their benefits, I have gladly mixed these into pancake batter, oatmeal, yogurt, etc. Definitely keeping these on-hand. Especially with not eating fish, I need to find new ways of getting Omega 3s.
I hope this has inspired you to experiment with some new-to-you foods. What have you tried that you didn't like? What have you tried and thought "how have I lived without this all this time"?