I don't normally get very excited about my work lunches. True confession, I've been known to bring a sodium-laden Lean Gourmet a time or two (per week, eek!) to work. Mostly I bring the previous night's leftovers. Most days, it's almost like a plug-your-nose-and-swallow type of reaction. Sad, I know. However, a few weeks ago, I prepared three days' worth of chicken salad. And even though that is not very exciting, it was something I don't normally prepare and I really liked it.
Here's a picture of my lunch on my cubicle desk. This is what I like to call real life food photography. Ha!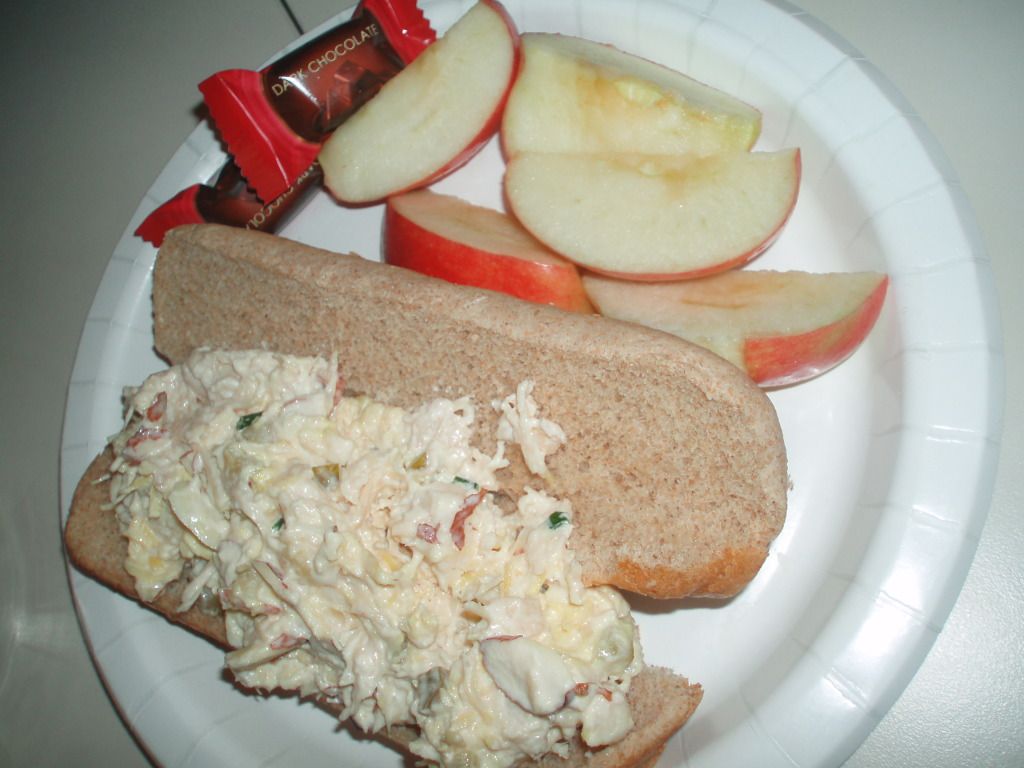 The best part is, most of the ingredients for this entire plate came from Aldi's, so the cost is literally pennies. I also think this would be a great way to take care of any leftover chicken or turkey you might have.
This is how I made it:
I mixed about 10 ounces of shredded chicken breast (leftover from a restaurant chicken dinner) with a few Tbsp of mayo. Some recipes call for relish, but I'm not a fan, so I chopped up three dill sandwich slices and mixed them in. Then I mixed in about 1Tbsp of sliced almonds for a nice crunch. I didn't have any onions on-hand, but if I did, I would've thrown in a handful. The second time I made this, I threw in a handful of dried cranberries and snipped chives. Experiment! Makes around three servings.
And yes, that's a hot dog bun. It was whole wheat and the last lone bun we had in the house, so I didn't want it to go to waste. Trying to practice sustainability, ya know:)
Don't quote me on this, but this is a rough estimate of the nutritional value of one serving of chicken salad on a wheat hot dog bun (according to the
Sparkpeople
nutrition tracker):
Calories
: 270
Carbs
: 23
Fat
: 16 (note to self: use fat-free mayo next time)
Protein
: 10