Say hello to my newest secret workout weapon:
Supreme90Day
I ordered it right after my favorite magazine touted it as comparable to P90X, something I've always wanted to try but was reluctant to spend so much cash on. Lo and behold, Supreme90Day is super inexpensive. In fact, you can sometimes find it at some Big Lots stores for like $4. People, that's $4 for 10 workout DVDs. That's 40 cents each! Oh yeah, baby!!! For the value of this system, that is one heckuva price.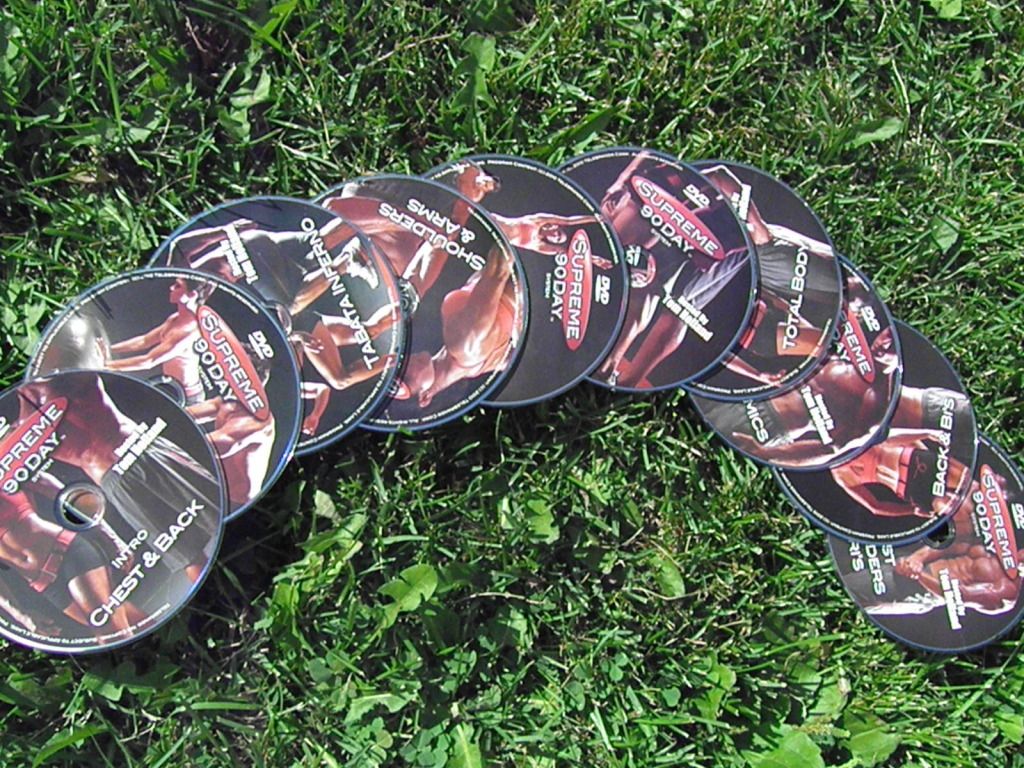 Let's get one thing straight. This system will bust your butt! In fact, if you don't have a strength training base to build upon, you might not want to start this until you do. I am a serious exerciser, and this still caught me off guard. This is not for beginners.
From a person who thrives upon change when it comes to working out, this 90-day workout system is ideal because you're doing something different every single day. This not only prevents me from getting bored but it keeps every one of my muscles guessing. I can already feel a change in my body. Carrying my son around doesn't feel as hard but my abs definitely feel harder! Push ups get a little easier, dashing up the stairs isn't as hard, and now some of my other workouts feel like child's play.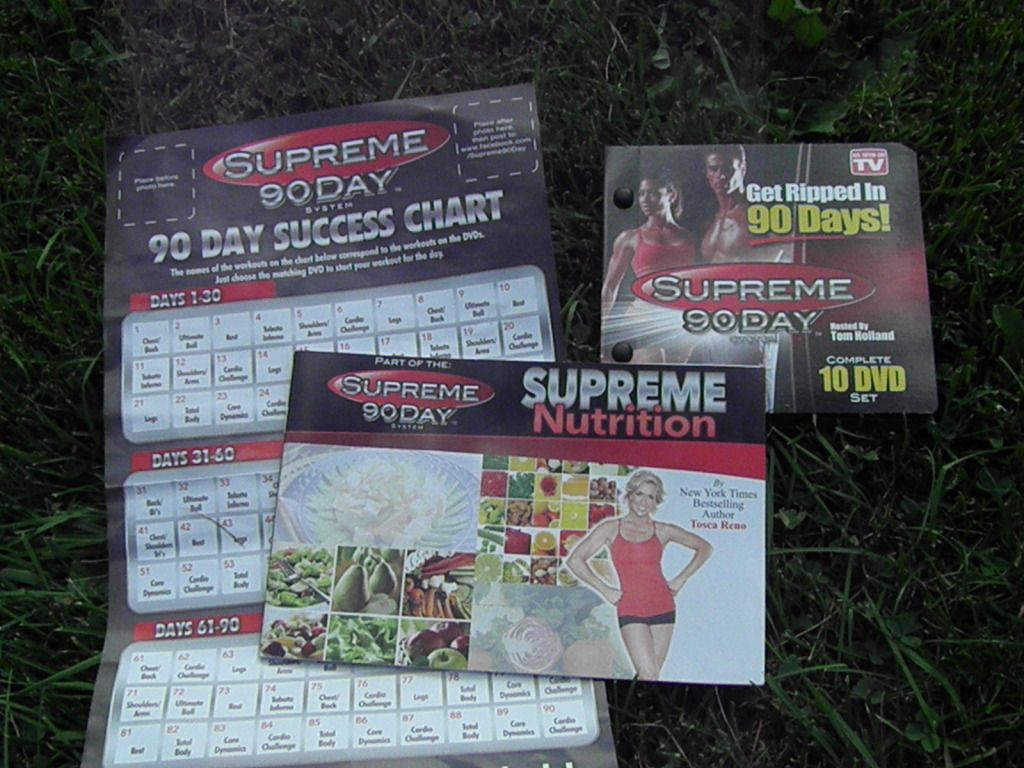 I'm currently on Day 15 of the system, working on this in conjunction with the Tone It Up
Love Your Body
series. Whoa! I started at Day 1 (again!) toward the end of December because I had a looong Christmas vacation to get a strong start. In fact, a friend and I just decided to head to the gym on our lunch breaks and we do some of the S90D circuits there. I started jotting the workouts down as I was working through the DVDs, so I can do them anywhere and I won't get off-track. Here's a glimpse at the breakdown (most videos pack major power into just 30-40 minutes):
Chest and Back
: lots of push up and plank-style variation exercises, presses and flyes.
Ultimate Ball
: prepare to work your entire body on the fitness ball.
Tabata Inferno
: prepare to sweat profusely! Each circuit is performed 8 times for 20 seconds on, 10 seconds rest. Some of the moves are strength-based (thrusters, lunges, etc), but you use lighter weights so you can power through them fast.
Shoulders and Arms
: you'll be shaking when you're done and won't want to lift your arms. Lots of traditional and functional bicep, tricep and shoulder exercises.
Cardio Challenge
: Another sweat-buster. And you won't do the same exercises twice in this powerful workout. Mountain climbers, plank jacks and burpees, oh my!
Legs
: All different variations of lunges and squats abound in this leg circuit.
Core Dynamics
: Sure, you'll work your core, but you'll also work your entire body. Don't plan on doing crunches, though. You'll be put through lots of plank variations and other powerful core exercises.
Total Body
: Uses some exercises from the other videos and some new exercises to hit every major and minor muscle group.
Back and Bis
: Many variations of what you'd expect with bicep curls, rows, and such. Some of the variations you probably haven't tried before. Also hits the lower back.
Chest, Shoulders and Tris
: Again, many variations on exercises you know like kickbacks, push ups, flyes and such.
Every workout incorporates major core work. In fact, many of them feature a core circuit before getting into the regular workout. The pace is pretty fast though, which is good in a way because you're burning extra calories along with your strength training. But it can be difficult to keep up with.
You *could* do all of the workouts without a ball, but not without hand weights. And as you progress, you'll need heavier and heavier weights. Most of the time, Tom Holland shows you how to do the moves without the ball, but there are a few instances where he doesn't. I would highly recommend a ball. You can get one pretty cheap at Walmart.
In addition to the workouts, the system comes with a complete 90-day nutrition plan written by
Tosca Reno
. Be prepared for tons of lean protein like eggs and grilled chicken and eating every few hours. I am actually following the
Tone It Up nutrition plan
right now, but in some ways the eating plans are similar. Both emphasize lean, clean and green foods and eating every few hours. For those of you that don't know, Tosca Reno is
the
biggest public personality behind eating clean. If she wrote this plan, I put my trust in it. To me, it seems similar to a bodybuilding diet, which makes sense since Tosca Reno is a fitness competitor.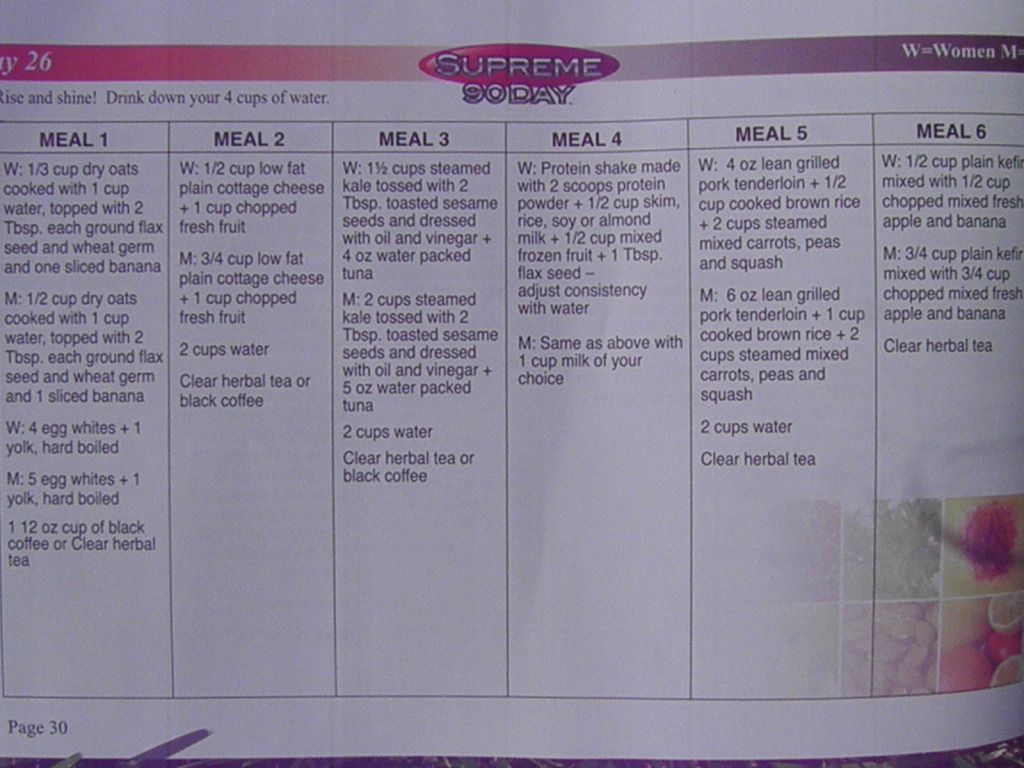 As long as I keep at it--and I plan to--I will continue to update you on my progress. If you're interested in learning more, please feel free to ask and I'll do my best to answer.
*Disclaimer: I have no affiliation whatsoever with anyone or any system mentioned in this post. Nor am I a fitness or health professional (yet!). This post reflects my own thoughts and observations.