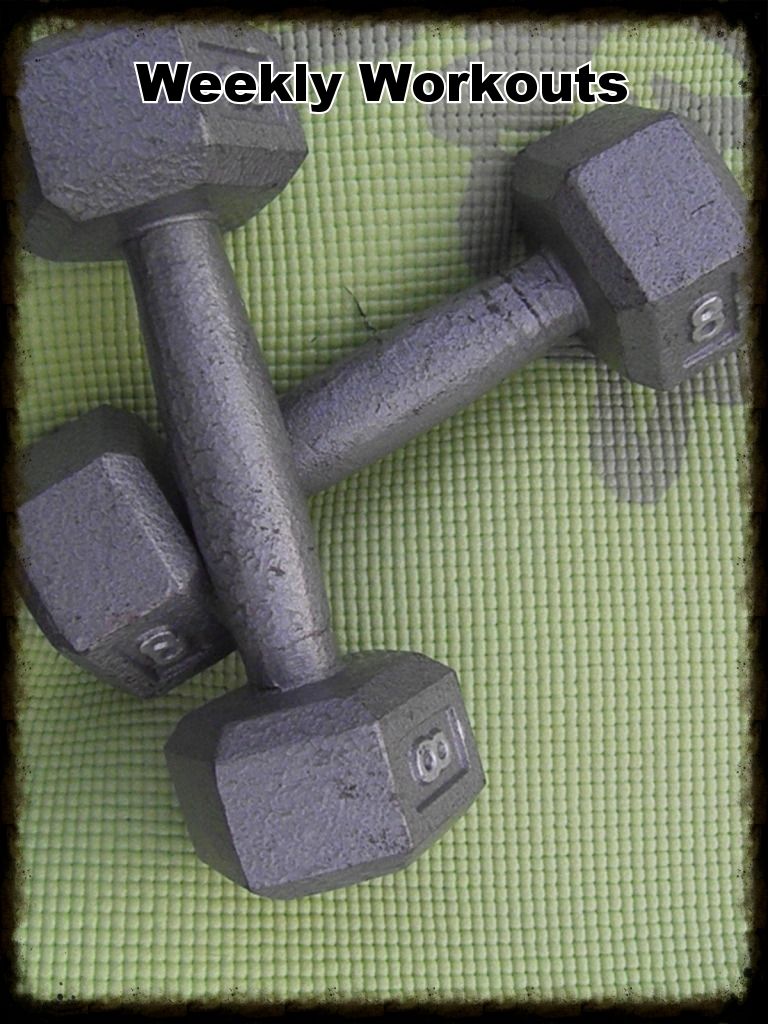 Monday:
Tuesday:
25 min abs and shoulders in the AM
30 min run, 2.75 miles in the AM
30 min brisk walk at lunch
Wednesday:
25 min chest and calves in the AM
30 min PM run, 2.7 miles
Thursday:
20 min biceps and abs in the AM
33 min run in the AM
Friday:
25 min run at lunch, 2.23 miles
10 min shoulders
Saturday:
Sunday:
I only slipped up a tiny bit this week with shoulders on Friday. I was so tired, just not feeling it whatsoever, so I stopped, and forgave myself right away. You have to listen to your body when it's screaming at you and I can say for certain that I'm pretty proud of myself for working out hard at least once, sometimes twice, per day and for sticking this program out
and
for doing it almost to a "T." Saturday, I was able to come back full force, so I know I made the right decision. The
LiveFit Trainer
prescribed 60 minutes of cardio on Saturday. I chose a 60 min Fire video from the
TurboFire
series as my cardio. And holy man, burned over 800 calories! That set me up for a good day, especially when there was an all-you-can-eat birthday party spread that night. I ate extremely sensibly so as not to deter my progress.
I actually start my new plan, the
12 Week Body Transformation
with Michelle Bridges (a cute Aussie Biggest Loser personal trainer), this week too. I'm just going to allow the two workout systems to dance with each other this week. I want to finish the LiveFit Trainer like a boss, since I've put sooooo much time and energy into it so far. But, the
12WBT
begins, and everyone begins together, so I can't start it next week. It will be a song and dance, but I'm going to make it happen anyway.
The only thing I'm worried about is the 1,200 calorie prescription on the 12WBT, which seems a bit excessively restrictive. I'm pretty sure a person needs more than that to just survive for one day, let alone move at all! I will most likely be adding to that calorie base--with unlimited veggies and some lean protein--especially on hard training days. I don't want to pass out or lose all the muscles I've build up on the LiveFit Trainer. I know better than that!
So far, I'm loving what I see with the 12WBT. It's like having a personal trainer right there with you. They're smart over there at 12WBT! They've built a strong social aspect into the training, which is scientifically proven to be essential for exercise adherence. They have little videos explaining a lot of the FAQs. The menu plans are all mapped out for you, so you don't even have to think--and you can swap out meals as you see fit. The meals are pretty darn easy to prepare too, so there's not so much fuss in my meal prep. The workout videos are all done and ready for you in the mornings, so you just have to follow along. Michelle also includes something that a lot of other trainers don't include--mindset training. You can prescribe diet and exercise to a person all day long, but if you don't break through their thoughts and mental challenges, you will get nowhere. I've only seen this strategy one other place, in
Chalene Johnson's
30 Day Push
. This plan is pretty much perfect! I'm not only trying to squeeze out a few extra pounds, but I'm also gleaning some fantastic strategies for my own personal training business in the process. Learn from the best!
How did you work out this week?