I think the time of day you work out is irrelevant, as long as you are actually performing at your fullest capacity. This, for you, could be before work, at lunch, in the evenings, or broken up throughout the day. The most vital part is that you find what works best for you so that you can stick with it.
However, there are some undeniable benefits to working out in the morning:
The evening is all yours and your family's--no running off to the gym at the expense of family time.
Working out before breakfast could increase your fat burn by up to 20%, without causing more hunger later in the day.
Your workout is done before the distractions and stresses of the day could potentially keep you from your workout.
It wakes you up better than coffee and the effects last much longer.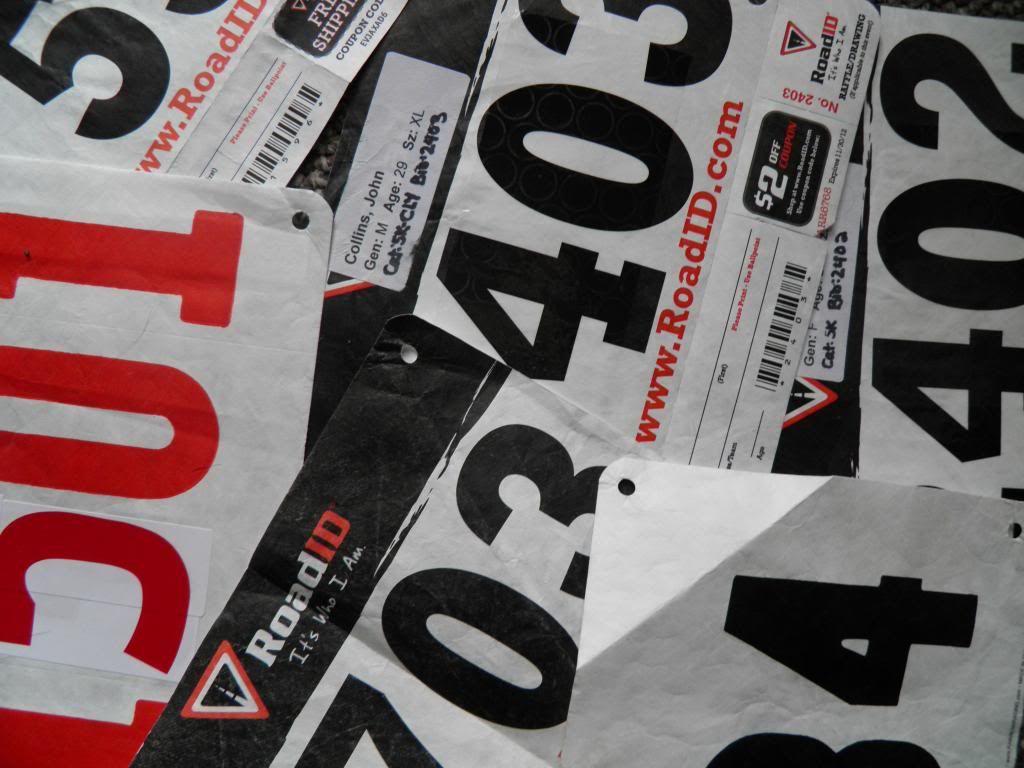 Now, it may be super hard to get your butt out of your nice warm bed at 5:30 in the morning. I hear ya.
I have a really tough time with this myself, especially in the winter when cold air freezes me in my tracks and my eyeballs and body beg for "just another half hour!" Plus, it's dark out, so your circadian rhythm fights back against your best efforts. However, since the beginning of this year, I was able to successfully transition my workout schedule with some creative tweaks.
How to Start Working out in the Morning:
1.
Begin on Vacation
: I had quite a few days off in a row this past Christmas break. So, I decided to start working out in the mid-mornings. Then, once I went back to work, it was much easier to transition into early-morning workouts. I wasn't about to mess up all the progress I had made during those two weeks.
2.
Prepare Ahead of Time
: The night before your workout, set out your workout clothes, prepare your morning breakfast (at least set out the ingredients), unfurl your exercise mat, and decide which workout you're going to do. You'll have everything in place to just roll out of bed and begin, barring all excuses. You also won't feel so scrambled in the morning rush when you have made all your preparations beforehand.
3.
Write it in the Calendar
: To help you decide what workout you're going to do, it is helpful to sketch out a plan in your calendar. The calendar helps hold you accountable to your goals and breaks them down into manageable steps. Plus, it just feels great to mark x's through all your completed sessions. Here are a few fun write-in calendar printables I found by way of Pinterest:
monthly workout calendar
,
two-week calendar
,
designer calendar
.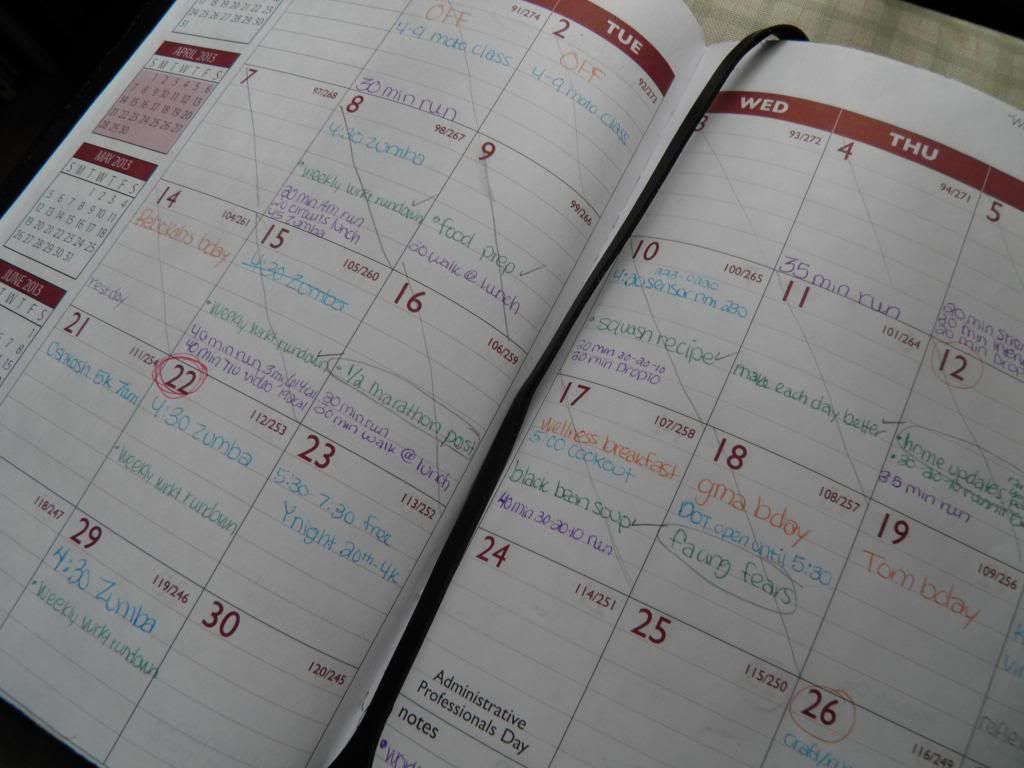 4.
Build in Rest Days
: Either designate a few days during the week that will always be rest days or give yourself one or two freebies during the week to use as you wish. I always rest on Thursdays and Sundays. This gives me something to look forward to (sleeping in!) and offers a little leeway so I don't over-train. If I need to move around rest days, it's simple to do. Building in rest days just makes the whole routine feel more sustainable.
5.
Create Plan B
: Think about all the things that could happen that could make you miss out on a workout: your alarm doesn't go off, your body feels too weak to get up, you find cat puke that needs to be cleaned ASAP, etc. Decide right away what Plan B will be, such as working out later in the day, giving yourself the day off, or doing a shorter but more intense HIIT workout when you're running short on time. Being prepared for obstacles is more than half the battle to overcoming them.
6.
Go to Bed Earlier
: Start easy, going to bed maybe 5 minutes earlier each night. Then, build up to about a half hour. At the half hour point, you have quite a good base for an effective workout session. Start there and increase as you progress. As an alternative, if your workplace allows, go into work a little later.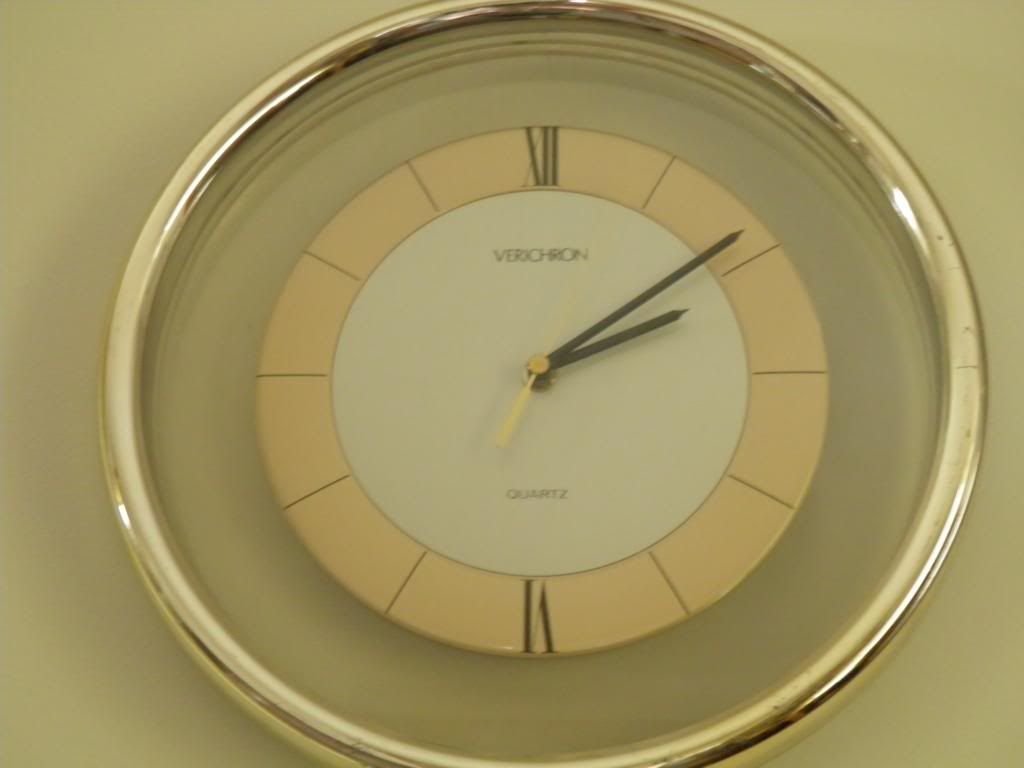 7.
Commit to just 15 minutes, for just one week
: It seems a whole lot less scary to get up just a little earlier for one week than to commit to 45 minutes, 5 days per week for the rest of your life. See how that works? You can practically trick yourself into getting into the habit with this simple tip. Get up just 15 minutes early for a week and do the best workout that you can. You might just find yourself going a little longer, if your schedule is a little more flexible. You may even break up your workout routine into 15 minutes in the morning and 15 minutes after work until you're ready to completely transition to morning workouts. It's helpful to just start somewhere and build up from there.
8.
Make a Date
: If you have friends who work out in the morning, offer to join them or join the morning session of your favorite exercise class. You'll be less apt to miss a session when your friends are expecting you or you've already paid for the class.
9.
Nix Travel Time
: You don't need the gym. Say what? Yes, you can do so many killer workouts at home, so it's unacceptable to use the "I don't have a gym membership" excuse. Workout DVDs, fitness magazine printables, Youtube, Hulu and so many other resources are available to you on your own turf. Maybe you even have a pup that could use a good leg stretch in the morning. Besides, working out at home cuts out time lost on travel to the gym--another common excuse.
10.
Set a Motivating Alarm
: Would you like to wake up to your favorite music or a bright light? How about waking up to your trainer telling you to get your workout in? You can always check your app store for a motivational alarm clock. For example, the
TIU app
comes with a playful alarm clock where you hear Karena and Katrina rooting or pushing for you in the morning. If you don't have a smartphone, put motivational post-its on your alarm clock with reasons why you need to get up and work out or reminders of events that you need to tone up for.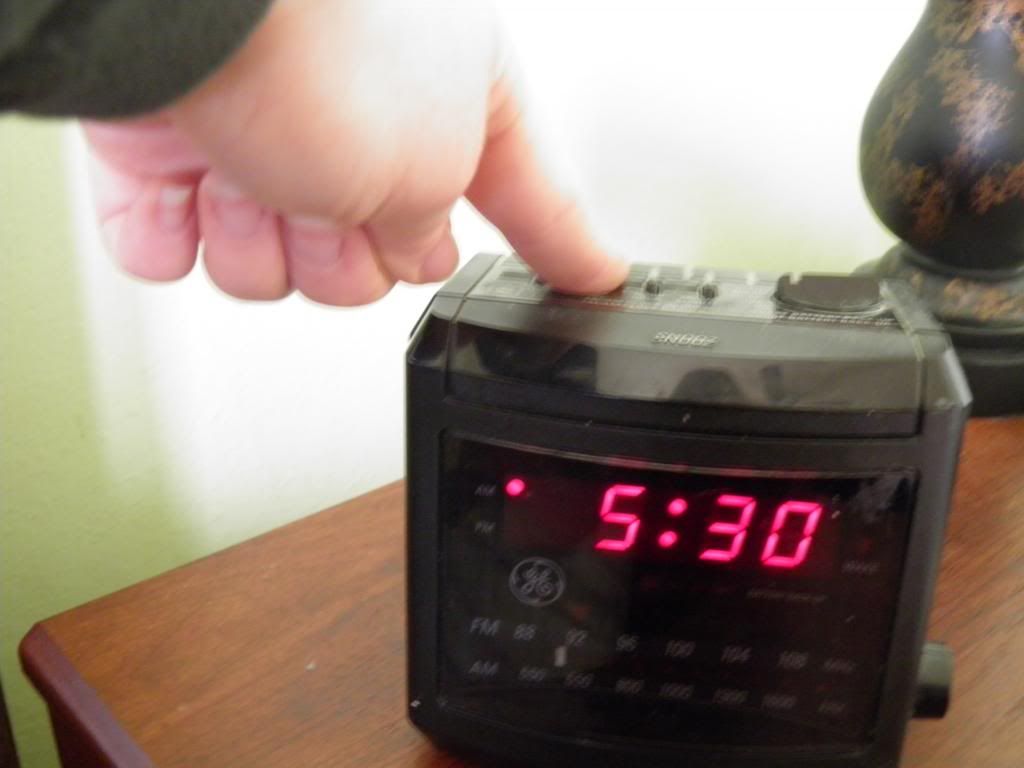 11.
Practice Tunnel Vision
: clear your mind and just do it. Get dressed, brush your teeth and get to working out. You really have to tone up your tunnel vision muscles. Ignore the laundry. Ignore the dishes. Ignore the project you left out on the table. The more you are able to hone this skill, the better.
12.
Attach Activity to Something Fun
: Catch up on all your favorite TV recordings from the night before (that you missed by going to bed so early, ha!). Get your news fix or indulge in guilty pleasure magazines. Treat yourself to a good tea after you're done working out. When you attach working out to something pleasurable, it will become
that
much easier and enticing.
13.
Reward System
: Set up a reward chart to show what you'll get yourself after a week, month, quarter, etc of successfully working out in the mornings. Make the rewards simple--they need not be extravagant or costly. You can do something as simple as use that special body wash you were saving in the shower after each morning workout. Or buy a new flavor of tea for #12 above.
14:
Warm up
: As soon as you're warm, your workout will not feel so hellish. Winter is especially brutal. I like to bring our small space heater into the bathroom to get me warmed up while I'm changing. The hardest part about morning winter workouts is the cold. The bed has a much stronger draw than the treadmill. So, beat the cold at its own game. Find ways to get your body warm, and don't give up on your idea of working out in the morning until after you're warmed up.
15.
Watch infomercials or music videos
: I sometimes find that watching P90X infomercials or music videos in the mornings pumps me up. The infomercials are great motivation to push it hard and the pop music pumps me up. It really depends on your mood and personal preferences. I just know that both of these have gotten me through tough workouts when I needed them to.
16.
Employ cheerleaders
: Recruit Twitter friends, follow your favorite fitness role models, or post Instagram images from your morning route. Cyber motivation is powerful and proven. My feed is filled with ladies (#TIUsisters) doing their "Booty Calls," a term coined by Tone It Up. Announce your goals on social media. Follow those other crazy morning runners. The more "likes," "favorites," and "retweets" you get, the more fire you'll have under your feet. Once you feel like you're part of that team of morning workout-ers, your motivation will swell.
17.
Build in Snooze Time
: pad in one or two "snooze" presses if you must. I have a hard time getting up after the first alarm too. If you know this about yourself, pad in a bit of snooze time. Just not more than one or two or you'll be losing out on valuable REM sleep.
18.
Start Writing/Noticing Changes
: Recording inches or lbs lost, energy gained, changes in confidence levels, etc provides instant gratification for what you're working so hard for. Maybe you've begun to revel in the early morning sunrise or how your belt just went up a notch. Whatever beauty you're gleaning from your morning workout, write it down. Take note of how your body feels after an AM sweatfest and makes you feel better throughout the day. This will perpetuate the habit and be a catalyst for future workouts, perhaps one day making you feel as though you never want to go back.
19.
Practice
: Do one week of morning workouts here and there just to see what they're like. Committing to the first week is always the hardest part, especially when compared to thinking about doing it for a lifetime. Try a few mornings or one week per month. You'll start to get the hang of it with a few trial runs. When it doesn't seem so daunting anymore, you might just make the switch with ease.
20.
Drink Some Coffee
: Not only will it help wake you up, but it might also help you
perform better
during your workout. I linked to just one compilation of studies, but if you Google "coffee and exercise," you'll find a myriad of proof that this works. If you struggle with the waking up part of morning workouts, this is your magic wand.
So, there you have it: 20 tried and true ways to make the transition to morning workouts a bit easier. Try out a handful of them and eventually you'll make a smooth transition. Follow me on
Twitter
(@BounSee_Jess) to see what I'm getting done in the morning, before the rest of the world wakes up, and to get a dose of extra morning motivation.
Any other tips from all you morning mavens out there?