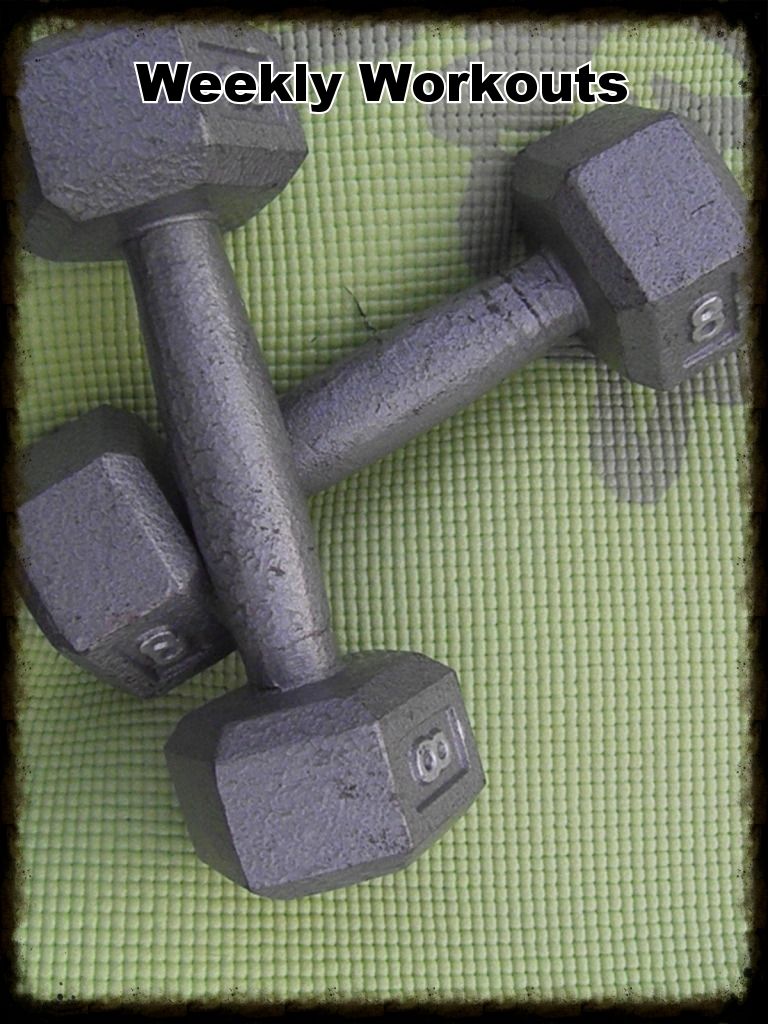 Monday:
Tuesday:
30 min Insanity Cardio Recovery, 162 calories
Wednesday:
20 min solo walk at lunch

35 min PM run, 2.64 miles
Thursday:
Friday:
Saturday:
60 min AM run (45 min Bikini Cardio pictured below + 15 min extra)

15 min strength (TIU in Foam Magazine)
Sunday:
40 min AM run, 3.1 miles
15 min of Tara Stiles Slim Calm Sexy Yoga before bed
On Monday, my friend and I got schooled by a nice-looking boy at the gym on how to do pull-ups on the available equipment. Now, I know some people are averse to unsolicited gym advice, but my friend and I were grateful for the pointers. He may or may not have had his pretty looks on his side:) I've also been practicing pull-ups at the parks whenever I take Peanut. It's one of my goals to be able to do 5 in a row by the first day of summer.
Tuesday was the start of the Tone It Up Bikini Series. I am one full week into the Tone it Up Bikini Series, and pretty much right on track. This week, I'm going full back into the Nutrition Plan, after Hubster does the grocery shopping. This morning I finally tried Perfect Fit pancakes (see Insta pic #1). I had been hoarding the one packet I got on Cyber Monday (ha!), and was dying to try the pancakes from the welcome packet, so I finally did.
The weekend finally brought temperatures in the 70s and our town came alive again. After battling winter temperatures for the past, oh, 6 months (no lie!), we were all more than happy to spend our entire weekend outside without jackets. Literally, if we weren't sleeping, we were outside. We did some work in the yard, had a picnic at the park, worked out on the porch, did some meal planning in the backyard. Oh, it was beee-you-tee-fulll! Every window in our house was open to infuse it with that spring scent.
On Sunday, I realized I hadn't hit my goal of incorporating at least 15 minutes of yoga into my week. Determined to reach that goal, I did 15 minutes of Slim Calm Sexy Yoga before bed. Oh, yoga right before bed is the most amazing thing ever. Maybe this is how I will incorporate more yoga into my routine, by doing it at bedtime. Sounds delicious.
I'm so excited to dedicate another week to my goals and dreams. Next weekend, I'm taking a mini weekend retreat, so this is a short week for me. Weee!
Images
TIU Perfect Fit protein pancakes with peaches

Meal planning in the backyard, TIU nutrition plan in-hand. Find my menu planner printable

here

.

My makeshift porch workout station. Dumbbells + picnic blanket + sunshine = best workout idea ever.

The kiddos played with chalk and bubbles while I worked out, natch!

Flowers growing in the gutter are special: A view from my morning walk.

My Tone It Up journal. Got a mini portfolio at work and decked it out. You'll see my

motivational quote

and

measurement

printables tucked in there.

Practicing pull-ups at the park.

Glazed chicken and broccoli, a healthy meal at Ihop.

Peanut pretend fishing with a stick down by the river.

Peanut and I walking the trails after church.
How was your weekend?