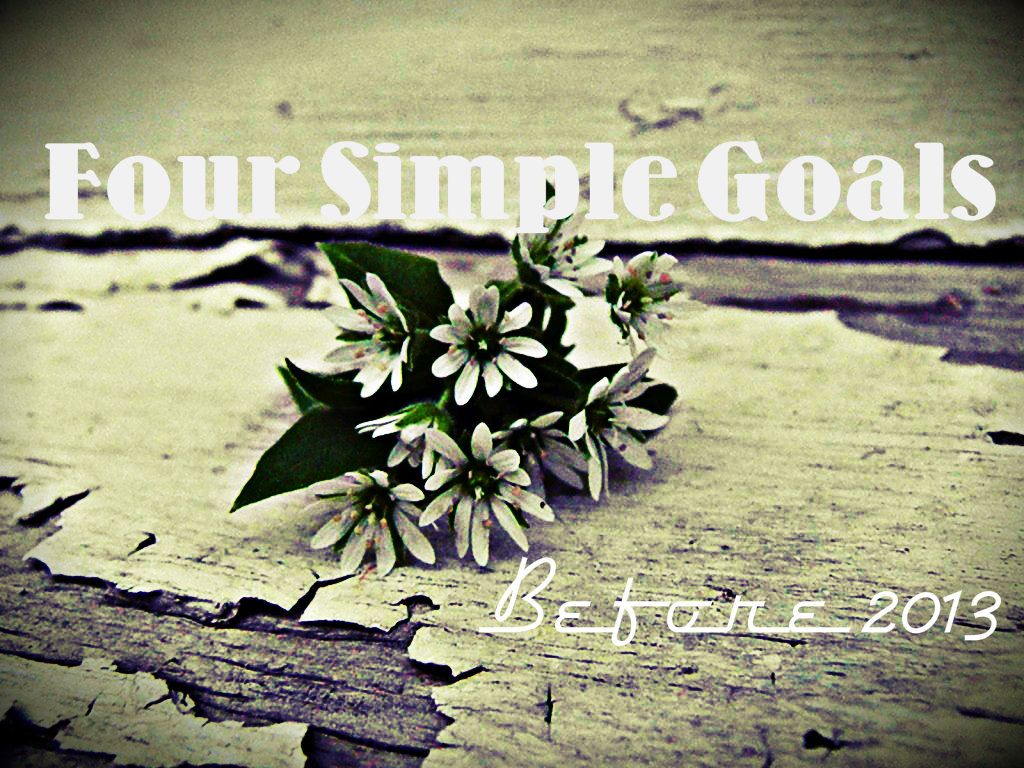 Following in
Elsie's footsteps
, I decided to post four simple goals that I will be dedicating myself to for the remainder of the year.
1.
Spruce A Space once a week
: We are a typical family with typical "piles" in unsightly places and little non-beautiful messes. I would like to take time once a week to clean at least one little nook of dust and randomness. If I really want to impress myself, I might even add something beautiful in its place (a scented candle, a picture? We'll see).
*Reward for finishing: one small Etsy print purchase
2.
Find Balance (in my checkbook)
: This is a boring one, but one I constantly struggle with and wish to overcome. Because, you see, my wellbeing depends on a balanced checkbook. When I have handfuls of receipts poking out of nooks in my purse and have that uneasy feeling of not quite knowing where we're at, I feel unnerved. Even though its boring, this goal is dedicated to my personal happiness. I'll sleep better, believe me.
*Reward for finishing: a new checkbook cover
3.
MOVE
: I have a desk job and I often find myself coming to the realization that I haven't moved from the time I punch in until lunchtime, except to take a bathroom break (oh, that sluggish feeling!). I need to get up at least once an hour to rest my eyes and move some blood around. This is a simple goal that I know I can do, I just need a silly written commitment like this to make it happen.
*Reward for finishing: a new tea flavor
4.
Art Journal Date
: I signed up for
Art Journal All Year
, one of Elsie's classes, at the beginning of the year and have yet to finish more than, um, three pages. I don't want this to become a chore, so I'm changing the curriculum a little bit and making my art journal more of a dream journal where I make lists of things I want to accomplish and ways to bring them to fruition. The thing is, the process of journaling my dreams and making pretty pages is cathartic, stress-reducing, and productive. I also believe the process of dream planning leads to good things. It's funny how those things you love the most get pushed to the side first.
*Reward for finishing: a new roll of washi tape
I am not only posting these goals here and submitting them to
A Beautiful Mess
, but I am also tracking them on
DailyFeats
, along with a few other achievable goals. The site encourages you to make healthy habits stick by creating little goal "triggers" like "
after I brush my teeth
, I will drink one cup of water." They also offer a built-in rewards system for each feat that you accomplish every day/week. Tangible prizes like $5 off coupons make really good incentives to make your life a little better. Hopefully these rewards will coincide with the rewards listed above (i.e. a $5 coupon to buy a new checkbook cover).
I encourage you to take
Elsie's challenge
or just dedicate a little time to some "
Daily Feats
" that you'd like to accomplish. Being stagnant is suffocating. Taking action will transform your life.
I'll meet you back here to follow up as I achieve these goals.