I love me a good mantra. That's why I've been studying them lately and testing some to experience their effect.
Mantras can be a powerful motivational tool if used in the correct way. They give the mind a clear focus for a workout, a performance, or a run. They keep you clearly focused on your goals and intentions. They can be used as an important reminder or as intrinsic motivation. They help keep you mentally prepared. For example, if you're doing a workout to show yourself you can after years of being sedentary, repeating "I can do it" to yourself over and over again can be the difference between failing and finishing. Focusing on the "I cans" is a strong motivator to do just that.
Mantras also cloud out negative thoughts that could easily mess up our concentration and progress. If you're completely focused on "I can do it," negative thoughts about your body, endurance, or appearance are not given any consideration. Drown out those distractions! Instead of focusing on what you can't do, you're concentrating on what you can do. Simple, right?
In this same way, you can completely re-wire your own thoughts. If you're not intentionally focused on anything and you're working out on autopilot, your thoughts are likely to stray to how much time you have left, how much cuter the girl on the elliptical in front of you is, how hot it is at the gym, how much your leg aches, etc. Taking control of your thoughts with a mantra puts the focus back on your abilities, squeezing out more of your potential than autopilot ever could!
Finding a workout mantra that fits is another thing that shouldn't be done without some consideration. Mantras should actually have an effect on you, so follow these steps to find a mantra that moves you!
1.
Make it meaningful
: Your running mantra should have personal meaning to you. Your mantra should really push you to do your best. Say, you've been finding lately that the only difference between dreamers and doers is action, you might try a mantra to remind you of that important lesson such as "take action" or "do it, do it." My personal mantra for almost everything is: "Make it happen." It has a lot of meaning to me. Whatever changes I want in any aspect of my life, I have the power to make them happen.
2.
Make your mantra activity-specific
: Your running mantra might not be the same as your weight-lifting mantra. For example, "little steps, big strides" might keep your focus on lowering your stride length, but it has little to do with ekeing out one last rep. Something like "power up" would be perfect for lifting.
3.
Make sure it moves you
: You might come up with the perfect mantra and then realize that it's just not resonating with you. Try again! Mantras aren't static. If you get bored with one, move on. Hey, "move on" would even be a good mantra!
4.
Base it on a goal
: What are your health goals? If you haven't already listed them, do so now. Goals take you forward. Now, figure out what mantra would remind you of those goals each time you work out. Say you want to be able to run a 5K by next month, you might choose a mantra such as "Go farther" to serve as a reminder of your goal. Say you want to tone up for a wedding. Chant something related so you keep your eye on the prize. Something like "here comes the bride" or "love and beauty." Make sure you're focusing more on the mental/health rewards vs the superficial ones.
5.
Revisit Poetry 101
: Ok, this rule is optional, but rhythmic mantras are a great way to incorporate your mantras into your breathing pattern, weight-lifting motion, or running stride. I recently took a run and repeated "faster, farther, stronger." I repeated the first syllable on one foot strike and the second syllable on the second foot strike. The effect was cool. If the words rhyme, even better. Rhyming words roll off the tongue easier.
6.
Make it short
: It's much easier to repeat one to three words to yourself than 15. You probably don't want to quote your favorite Walt Whitman-ism. Focus on something very concise. When you're breathing heavy, you don't want to be reciting long phrases in your head. You'll lose that focus that we were talking about.
7.
Make it positive
: "Keep going" is 1,000 times more effective than "don't stop." You're focused on moving forward, progress, being a trooper. When you say "don't stop," you're more focused on that word tough "stop." It's the opposite of motivating. Re-word your mantra until it says something positive.
8.
Use powerful action words
: Strong words are more impactful than wishy-washy ones, but that goes without saying. Inject extra energy into your workout mantra and it might just inject more energy into you!
Here are a few mantra ideas to get you started:
Burn it up
All in!
Pound it down
Worn to new strength
Thank you legs!
Guide your bliss
Forward motion
Move ahead
Move on
Fast and furious
Believe in it
Propel forward
Own it
Push it
Power up
It's all in you! <--I love this powerful mantra from Lucy Danziger of Self Magazine.
Other ideas
:
Hypnotics
: In the book Born to Run, Jenn Shelton is said to have used a quote from a Kerouac novel to guide her runs. It said to let the ground passing underneath you hypnotize you. It is interesting to try this. When you're focused on the sidewalk, you lose your train of thought. Interesting concept.
Bible verses
: Depending on your faith, you might use scripture or other proverbs to piece together your mantra. Something like "run to You" could have double significance for a Christian runner. Take
1 Corinthians 9:24-27
for example. Basing your mantra on that passage could leave you repeating "run for THE prize."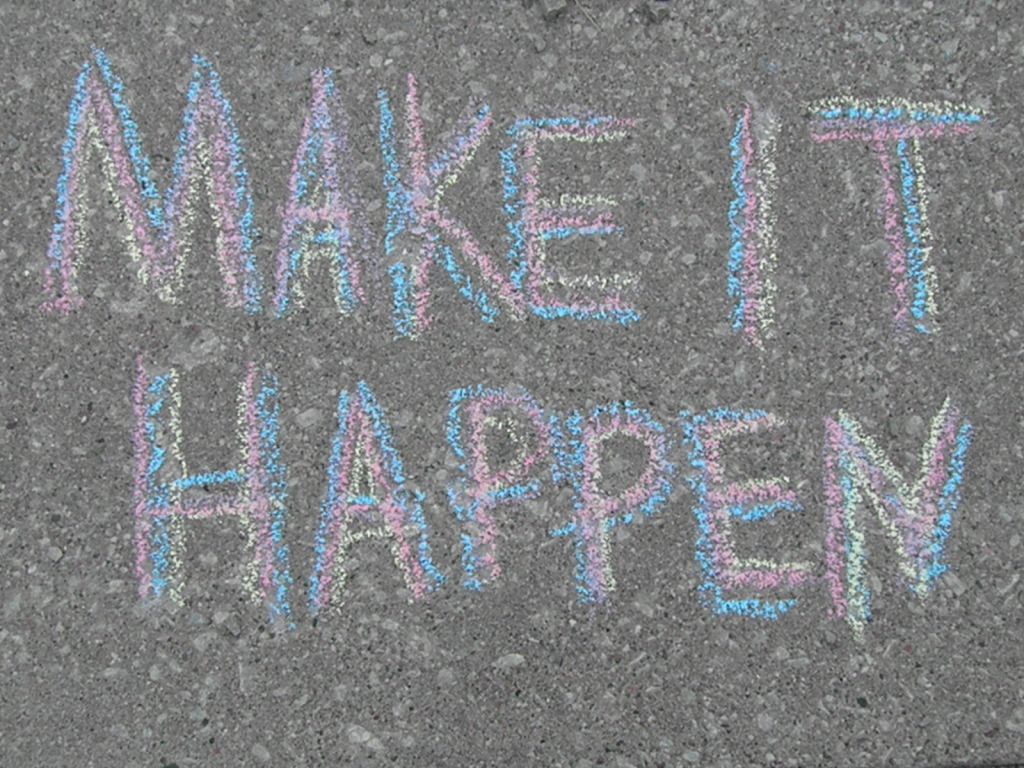 Make it Happen
is my personal slogan. I favor it so much so that, in the next few weeks, I will be showing you a few DIY projects that incorporate your mantra into the design. I can't wait to share them with you.