Meet my running partner, Titus. He is a Staffordshire Terrier who likes to sleep under the covers. He is the best running partner ever because he: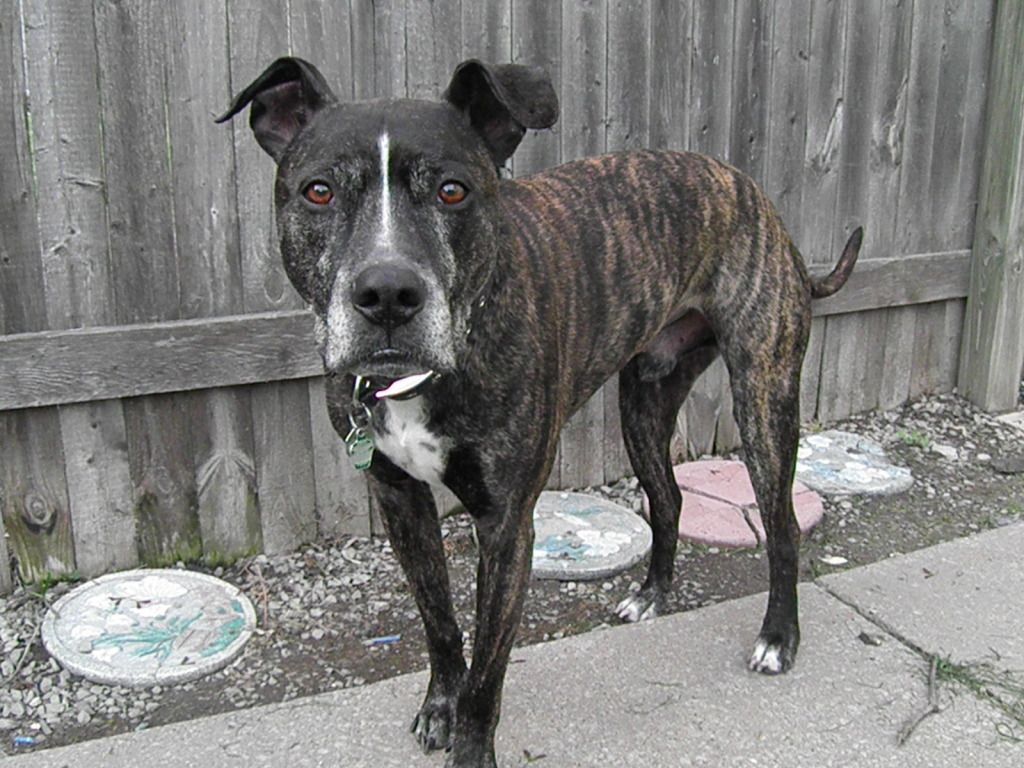 1. Is always ready for a run. Only ice in his paws will slow him down (he's short haired, so winter runs are not ideal). I don't need to set a date and time. He's there. He's ready.
2. Always keeps pace with me. I am never running too fast or too slow for Titus. I have pretty short legs, so 5mph works for both of us.
3. Gives us both a reason to exercise. I am a proponent of Caesar Milan's advice about exercising your dog. If we can both pump out 3 miles at once, we'll both feel better afterwards.
4. Makes me feel safe in grittier neighborhoods. No one messes with the pit bull.
5. Except those tiny little people that approach asking to pet him. I just love that!
6. Gives me a bicep workout at the same time. Titus, leave the squirrels alone! But really, guiding him with the leash is a good arm challenge. Look at him. He's meaty!
7. His happy energy wears off on me. When he sees the running shoes get tied and the leash come out of the basket, he gets downright giddy. It makes me feel a little more excited about running too.
8. Won't roust up the cat as much when he's tired. Milan knows that that a tired dog is an obedient dog.
Titus has accompanied us in 5K races and trail hikes. He's a great sport. I think this is the reason he hasn't even come close to showing his age yet. He's 8 (going on 9 in August) and he's still a solid block of muscle with some sprightly puppy energy still inside him.
If you're thinking of running with your pup, here are some things to consider:
Will your dog run beside you?
If you have a dog that takes
you
for a walk, you might consider some training to make him a better running partner. Titus stays at my side, so I am never at his mercy. Except when a squirrel crosses right in front of him, but see my comment about built-in bicep work above.
What breed is your dog?
It is absolutely necessary that you
do some research
to make sure that your breed is suited for running. Do not try to run a 10k with a bulldog! Titus is well-suited for brisk, shorter runs. Perfect!
Is he ready to run?
Even if you've found a breed that is built to run, you still need to build up their endurance just like you built up yours. And check with his doctor just like you checked with yours.
How far are you going?
Titus and I usually go 3 miles tops. Any longer than that (or on hot days), and you should probably bring along water for both of you and a collapsible water dish along the lines
of this
. If the dog is lagging or showing signs of exhaustion, do
not
push him! It is also best to go when temperatures and sun are not at their peak. We both find that 60 to 70 degrees is pretty ideal for a run.
Where are you running?
Be mindful that your dog is not wearing shoes to guard his feet from broken glass, sharp rocks, frostbite or burning-hot pavement. Titus is used to running on sidewalk and trails, which are my normal running routes. Just make sure to keep Bowser's feet in mind.
What type of leash do you have?
I find that a leash that is long enough to allow me to pump my arms and maintain good form, but short enough to keep the dog near my side, is just perfect.
Try not to make running with your dog too difficult though. A doggie workout buddy is ideal because they barely require any fancy gear or training. That's what makes running with him so great!
I don't have any advice on what to do with those #2 bags while you're running. They're gross and they flop about and make it hard to, well, run. There are other disadvantages, but this is not the place to list them:) If you have any good tips for running with poo or if you've invented the perfect disposable bag system, please let me know! I'm in desperate need of something...anything!